Business Law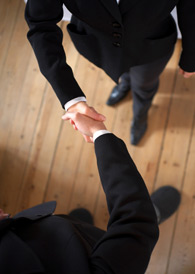 If you would like to be referred to a California Business Attorney in your area, please contact Attorney Search Network for a
Lawyer Referral
.
An overview on Securities Law and Corporations
The securities law exists because of unique informational needs of investors. Securities are not inherently valuable; their worth comes only from the claims they entitle their owner to make upon the assets and earnings of the issuer, or the voting power that accompanies such claims. The value of securities depends on the issuer's financial condition, products and markets, management, and competitive and regulatory climate. Securities laws attempt to ensure that investors have accurate information of the type of interest they are purchasing and its value.
The Securities exist in form of notes, stocks, treasury stocks, bonds, certificates of interest or participation in profit sharing agreements, collateral trust certificates, preorganization certificates or subscriptions, transferable shares, investment contracts, voting trust certificates, certificates of deposit for a security, and a fractional undivided interest in gas, oil, or other mineral rights. Certain types of notes, such as a note secured by a home mortgage or a note secured by accounts receivable or other business assets are not securities.
There are two principle settings for buying and selling securities: issuer transactions and trading transactions. Issuer transactions are the means by which businessmen raise capital and involve the sale of securities by the issuer to investor. Trading transactions are the purchasing and selling of outstanding securities among investors. Outstanding securities are traded through securities markets that can be either stock exchanges or "over-the-counter". A stock exchange provides a place, rules, and procedures for buying and selling securities. Generally, to have their securities sold and bought on a stock exchange, a company must list its securities on a given exchange. Stock exchange rules are subject to approval by the Securities and Exchange Commission (SEC). All transactions that do not take place on a stock exchange are said to be executed in the over-the-counter market, which is the residual securities market. Only dealers and brokers who are registered with the SEC may engage in securities business both on stock exchanges and over-the-couner market. Most of the broker-dealers serving the public are members of the National Association of Securities Dealers (NASD), a national securities association registered with SEC.
Securities regulations focus mainly on the market for common stocks. Both federal and state laws regulate securities. Federal securities laws are generally administrated by the Security and Exchange Commission which was established by the Securities Exchange act of 1934. The first of the federal securities laws enacted was the Federal Securities Act of 1933, which regulates the public offering and sale of securities in interstate commerce. The 1933 Act prohibits the offer or sale of a security not registered with the Securities Exchange Commission and requires the disclosure of certain information to the prospective security's purchaser. The objective of the 1933 Act's registration requirements is to enable a purchaser to make a reasoned decision based on reliable information.
Securities Exchange Act of 1934 requires that issuers, subject to certain exemptions, register with SEC if they want to have their securities traded on a national exchange. Issuers of securities registered under the 1934 Act must file various reports with SEC in order to provide the public with adequate information about companies with publicly traded stocks. The 1934 Act also regulates proxy solicitation and requires that certain information be given to a corporation's shareholders as a prerequisite to soliciting votes. The 1934 Act permits the SEC to promulgate rules and regulations to protect the public and investors by prohibiting manipulative or deceptive devices or contrivances via mails or other means of interstate commerce. Rule 10b-5 of The 1934 Act protects against insider trading.
State securities law are commonly known as Blue Sky Laws. Typical provisions include prohibition against fraud in the sale of securities, registration requirements for brokers and dealers, registration requirements for securities to be sold within the state, and sanctions and civil liability. A majority of states, with the exception of New York and California, have adopted the Uniform Securities Act, at least in part.
A corporation is a legal entity created through the laws of its state of incorporation. Individual states have the power to promulgate laws relating to the creation, organization and dissolution of corporations. Many states follow the Model Business Corporation Act. (See Minnesota's adoption.) State corporation laws require articles of incorporation to document the corporation's creation and to provide provisions regarding the management of internal affairs. Most state corporation statutes also operate under the assumption that each corporation will adopt bylaws to define the rights and obligations of officers, persons and groups within its structure. States also have registration laws requiring corporations that incorporate in other states to request permission to do in-state business.
There has also been a significant component of Federal corporations law since Congress passed the Securities Act of 1933, which regulates how corporate securities are issued and sold. Federal securities law also governs requirements of fiduciary conduct such as requiring corporations to make full disclosures to shareholders and investors.
The law treats a corporation as a legal "person" that has standing to sue and be sued, distinct from its stockholders. The legal independence of a corporation prevents shareholders from being personally liable for corporate debts. It also allows stockholders to sue the corporation through a derivative suit and makes ownership in the company (shares) easily transferable. The legal "person" status of corporations gives the business perpetual life; deaths of officials or stockholders do not alter the corporation's structure.
Corporations are taxable entities that fall under a different scheme from individuals. Although corporations have a "double tax" problem --both corporate profits and shareholder dividends are taxed -- corporate profits are taxed at a lower rate than rates for individuals.
Corporate law has important intersections with contract and commercial transactions law.
If you have any questions about the information provided above, please call (800) 215-1190 or contact Attorney Search Network.
Call Attorney Search Network for a Lawyer Referral to one of Attorney Search Network's prescreened and experienced panel member lawyers or law firms.