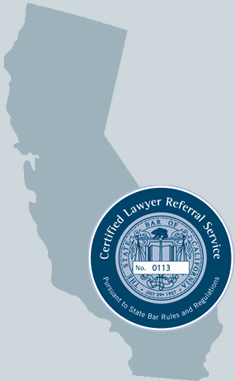 Use this form to ask for general information about our services.
Note:Remember that your information is confidential.
If you have an attorney in mind, and you would like us to find free information about his or her:
1. Certifications and Specializations
2. Years of Experience
3. Credentials
4. State Bar Records*
5. Ratings
6. Verdicts & Settlements**
Please send us the attorney's information. There are a number of ways for you to reach our service:
For immediate assistance please call TOLL FREE (800) 215-1190
Submit our Online Lawyer Check Request Form:
If you experience any problems while submitting this form,
please contact us by e-mail or call us at Toll Free (800) 215-1190
* California State Bar Records are also available at www.calbar.ca.gov
** Verdicts and Settlements are limited to personal injury, workers' compensation, and medical malpractice related cases.
Attorney Search Network is a California State Bar Certified Lawyer Referral and Information Service (certification #113) certified to operate in the following California Counties:
Alameda | Alpine | Amador | Butte | Calaveras | Colusa | Contra Costa | Del Notre | El Dorado | Fresno| Glenn | Humbolt | Kern | Lake | Lassen | Los Angeles | Mendocino | Modoc | Napa | Nevada | Orange | Placer | Plumas | Sacramento | San Bernardino | San Diego | San Francisco | Santa Clara | Shasta | Siskiyou | Solano | Sonoma | Sutter | Tehama | Tuolumne | Trinity | Riverside | Ventura | Yolo | Yuba
Attorney Search Network meets all American Bar Association Standards for Lawyer Referral Services.
Call Us Toll Free (800) 215-1190