Insurance Law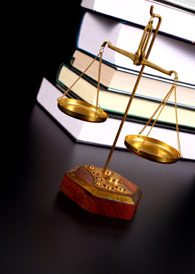 If you would like to be referred to an Insurance Attorney in your area, please contact Attorney Search Network for a
Lawyer Referral
.
In the absence of insurance, three possible individuals bear the burden of an economic loss; the individual suffering the loss; the individual causing the loss via negligence or unlawful conduct; or lastly, a particular party who has been allocated the burden by the legislature, such as employers under Workmen's Compensation statutes.
While types of insurance vary widely, their primary goal is to allocate the risks of a loss from the individual to a great number of people. Each individual pays a "premium" into a pool, from which losses are paid out. Regardless of whether the particular individual suffers the loss or not the premium is not returnable. Thus, when a building burns down, the loss is spread to the people contributing to the pool. In general, insurance companies are the safekeepers of the premiums. Because of its importance in maintaining economic stability, the government and the courts use a heavy hand in ensuring these companies are regulated and fair to the consumer.
Up until 1944, insurance was not considered "commerce" and not subject to federal regulation. But in United States v. South-Eastern Underwriters Association, the Supreme Court held that Congress could regulate insurance transactions that were truly interstate. Congress then enacted the McCarran-Ferguson Act (15 USCS § § 1011) which provided that the laws of the several states should control the insurance business, but that the Sherman Act,the Clayton Act, and the Federal Trade Commission Act were applicable to the insurance business to the extent that it was unregulated by state law.

The McCarran-Ferguson Act, broadly speaking, gives states the power to regulate the insurance industry. While state insurance statutes override most federal laws, some portions of federal law (like federal tax laws) are always commanding. Therefore, when researching whether a particular law governs, a good rule of thumb is to ask whether the inquiry is related to the "business of insurance" (where state law governs), or whether it is related to peripherals of the industry (labor, tax, securities - where federal law governs).
Bad Faith Insurance Law
Bad Faith Insurance law is the name of a legal action in which a person files a tort suit on their own insurance company for failing (in bad faith) to pay out a claim which should be paid out based on the insurance coverage. A bad faith insurance claim is tort claim based on a breach of contract by the insurance company. It is important to remember that bad faith insurance claims are filed on your own insurance company. If you have filed a claim and your insurer has unjustly denied it or under paid the coverage, you should speak to an attorney to inquire about a bad faith insurance claim.
If you have any questions about the information provided above, please call (800) 215-1190 or contact Attorney Search Network.
Call Attorney Search Network for a Lawyer Referral to one of Attorney Search Network's prescreened and experienced panel member lawyers or law firms.